Upcoming events (TCLS = Thursday Chemistry Lunch Seminar @12.15 in Tripletten)
-

Summer time ++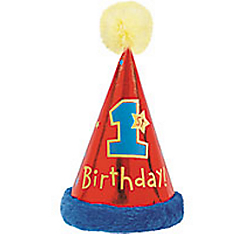 Så er 9. juli her og vår kjære kollega professor Leiv Kr. Sydnes fyller 70 år! Vi gratulerer så mykje med dagen, vonar og reknar med at dagen blir brukt i godt festleg lag, og viser ellers til fyldig intervju i På Høyden.
I wish all colleagues and students at the Chemistry department an enjoyable and invigorating Summer!
Remember to apply ample amounts of sunscreen! – Knut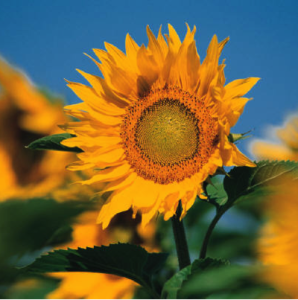 Den 9. juli blir Leiv Kr. Sydnes 70 år og går av frå professorstillinga. Frå Kjemisk institutt, kollegaer og studentar var det kjekt å samlast 19. juni for å markere og setje lys på ein del av dei mange prosjekta og bidraga som Leiv har ytt opp gjennom åra.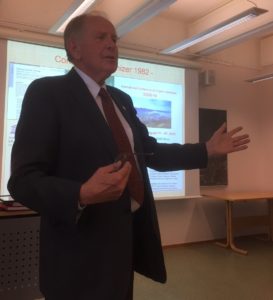 Ei rekke talarar var i aksjon, før Leiv sjølv gav sin versjon av livet sitt som kjemikar. Vi ser fram til fortsatt innsats frå Leiv som professor emeritus ved Kjemisk institutt!
Mandag 18. juni gjennomførte Kjemisk institutt HMS-dag på og nær Kalfaret Brygghus. SSU(Safety & SUstainability)-manager Tove Lind, Equinor, gav ei innføring i dei mange utfordringane ved Johan Castberg-feltet i Barentshavet, og spesielt bygging av ein god sikkerhetskultur i organisasjonen. For å få til eit kontinuerleg og ekte fokus på HMS er det nyttig å utvikle modellar og perspektiv på sikringstiltak. Gjeldande modell innan Equinor er vist i figuren.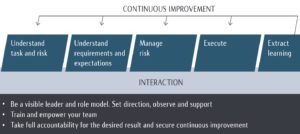 Etter gjennomgang av arbeidsmiljøundersøkelsen for instituttet samt gruppearbeid med sikte mot forbetringstiltak, var det lunsj og deretter omvisning på verkstadar/laboratorium ved det nye fakultetet for Kunst, Design og Musikk (KMD). Av alt interessant var det litografiprosessen og kopling til kjemi som vakte størst interesse. Takk til ass. fakdir.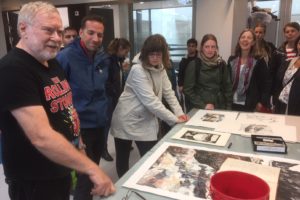 Eli Høie for å ha arrangert omvisning for oss!
Etter ei ny fokusøkt kor PhD-utdanninga vår var tema, var det offisielle programmet ferdig. Mange ønskte å få med seg innføring i ølbrygging mens vi var i gamle Hansa-lokale, og det blei ei hyggeleg avrunding med lite spytting i glasa.

Yesterday, EXPO-2018 took place at the Kronstad Campus of Western Norway University of Applied Sciences (HVL).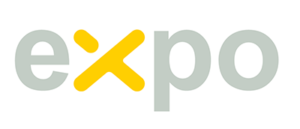 Some 700 freshly minted engineers and economists presented their bachelor projects, about 270 in total, by way of posters, stands and enthusiasm.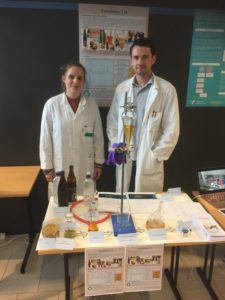 The picture shows the award-winning «best stand in show», featuring extraction and quantitative analysis of parabenes in on-campus-brewed beer. Focussing on the chemical and biochemical engineers, lots of talent was evident — hopefully more than a few of them show up as MSc-students in our departement over the summer? EXPO is an annual event — something to consider visiting next June?
Time and place: Friday June 15th at 13:15 in K3@BIO.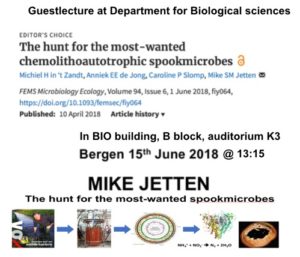 Mike Jetten and his team have provided significant discoveries about the role of anaerobic bacteria in the global nitrogen cycle (anammox) and nitrate-dependent methane oxidation.The anammox bacteria can convert nitrogen compounds into dinitrogen gas without oxygen.This process is highly beneficial to the development of sustainable waste water treatment. Anammox has therefore been implemented in sewage treatments plants worldwide.

At the biannual President's Meeting in ISQBP next week, Dr. Nathalie Reuter, as of July 1 Professor at the Chemistry department, will receive the Loew Lectureship Award! The International Society of Quantum Biology and Pharmacology (ISQBP) was founded by Professor Per-Olov Löwdin, who also served as the society's first president. The eleventh President was Gilda H. Loew, in honour of whom the Loew Lectureship Award was established in 2004, and the 23rd President was this years recipient of said Award, namely Nathalie.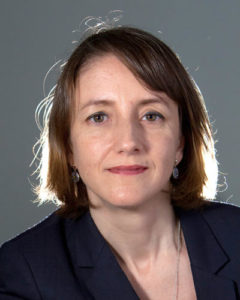 In between, the list of former ISQBP Presidents include several Nobel prize laureates and other highly regarded scientists. We congratulate Nathalie on receiving the Loew Award in recognition of her high standing in a very competitive field of research!
In passing,  it may be noted that the referred-to Professor Löwdin is also accredited with coining the research field Quantum Chemistry. He was the supervisor of Professor Rolf Manne, who in turn established this research field in Bergen, at the Chemistry department. It does make some sense that Nathalie receives the Loew Award and joins the Chemistry department at the same time!
Oct 10 is the Norwegian research council's application deadline for national research infrastructure platforms. Only the 165 project leaders who submitted a first-stage sketch are eligible for applying. The 165 budgets sum up to 9,5 billion kroner, while the government plans to spend 600-800 million kroner. The sketches have now been published and the important process can begin of modifying, combining, and in some cases, abandoning, projects may begin.
Our department is coordinating two proposals: High-Throughput Experimentation Facility for Parallel Synthesis, and Reaction Screening and Optimisation (contact person: Giovanni) and X-ray Diffraction Instrumentation for Biostructures, Catalytic Chemistry and Functional Materials (contact person: Karl W.). We are strongly involved in the proposed National Mass Spectrometry facility for Metal Complexes, Clusters and Nanoparticles (MS-MCCN) (coordinated UiO), National Platform for NanoSafety,  and Lipidomics and Energy Metabolism Platform (both coordinated by the medical faculty, UiB).
We are hosting the NNP (National NMR platform), and experience from both the application process and the startup  will prove invaluable in the work that lies ahead.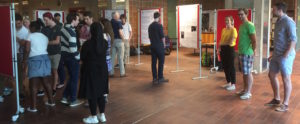 The local Nano-day was arranged today as previously announced on this channel – starting with oral presentations for the Nano100 students and finishing off with a public show of the posters that document their learning outcomes from a semester as interns in a research group.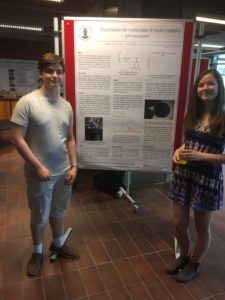 As usual, the competition for the honour as best poster in show was a close one, but with Ida and Morten as the unrivalled winning duo. Well done — to them and their fellow students!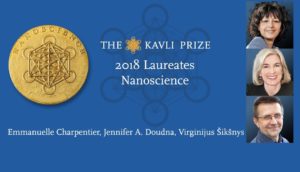 It is fitting to point out that yesterday, the winners of the 2018 Kavli Prize winners in Nanoscience were officially announced. Quoting the Kavli foundation, The Kavli Prize in Nanoscience is awarded for outstanding achievement in the science and application of the unique physical, chemical and biological properties of atomic, molecular, macromolecular and cellular structures and systems manifested in the nanometer scale. This year, the prize was awarded for the invention of CRISPR-Cas9, the revolutionary nanotool for editing DNA, shared by Emmanuelle Charpentier of the Max Planck Society, Jennifer A. Doudna of the University of California, Berkeley, and Virginijus Šikšnys of Vilnius University.
På fredag 1. juni går Nanodagen 2018 av stabelen. Dette er både eksamensdag for NANO100-studentane og ei markering av nanostudiet ved UiB. I tidsrommet 14.15 – 15.00 stiller NANO100-studentane ut posterane sine fra vårens prosjektarbeid i ein offentleg postersesjon. Dette finn stad i Vrimlearealet 1. etasje, Realfagbygget.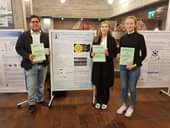 Du er hjarteleg velkomen til å møte nye og gamle nanostudentar og -veiledarar i samling rundt postarar og akkompagnert av litt sunn munngodt. Det naturlege høgdepunktet blir utdeling av årets posterpris! Dette er ein stolt tradisjon, og det opptil fleire dugande forskarar som først vekk avslørt sitt talent i denne samanhengen!