Månad: desember 2016

I dag har UiB signert kontrakt om kjøp av nytt NMR-instrument frå Bruker Biospin! Instrumentet har kryoprøvehaldar for proton, karbon, nitrogen og fosfor NMR og vil bli plassert i Verkstadsbygget (NNP). Det er same programvare og prøvevekslarsystem for både 600 og 850 MHz instrumenta, slik at det blir praktisk for brukarar å flytte mellom dei to instrumenta (som vil stå attmed kvarandre). Begge instrumenta har lukka system for flytande nitrogen, slik at det ikkje er naudsynt med regelmessig fylling av anna enn helium.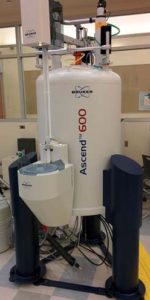 Vi forventar installasjon tidleg neste haust. Etter at akseptansetestar er OK, vil det gamle 600MHz-instrumentet (frå 2004) bli slått av. Dette instrumentet har vore plaga av ustabilitet det siste året, og var m.a. utsett for ei kostbar utslokking av magneten («quench») i fjor haust.
Kjøpet blir finansiert i eit spleiselag kor Bergen Forskningsstiftelse, UiB og to helseføretak bidrar tungt. Dette har blitt mogeleg på rekordtid takka solid velvilje og satsingsvilje frå dekanat@MN, rektorat@UiB, Styret ved BFS og visjonære direktørar ved Helse Førde og Helse Bergen, på bakgrunn av stor fagleg samling frå ulike institusjonar. Stor takk til alle bidragsytarar!
Det nye 600MHz-instrumentet er spesielt eigna til lange prøveseriar av biologiske prøvar og særleg for medisinske metabolomikk-studiar. Olav M. Kvalheim har vore ei heilt avgjerande drivkraft bak å etablere det underliggjande nettverket av drivande fagfolk samt å formidle nytteverdien som denne forskninga har, til styringsnivået. Gratulerer med dagen!
Next page →