Guest lecture in the BIO building this Friday
Time and place: Friday June 15th at 13:15 in K3@BIO.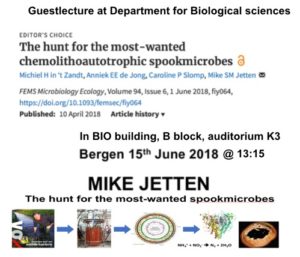 Mike Jetten and his team have provided significant discoveries about the role of anaerobic bacteria in the global nitrogen cycle (anammox) and nitrate-dependent methane oxidation.The anammox bacteria can convert nitrogen compounds into dinitrogen gas without oxygen.This process is highly beneficial to the development of sustainable waste water treatment. Anammox has therefore been implemented in sewage treatments plants worldwide.