Upcoming events (TCLS = Thursday Chemistry Lunch Seminar @12.15 in Tripletten)
Mar. 22 - Workshop - Utarbeidelse av digital eksamen vår 2018 - 10.15-12.00@ Reagensglaset
Mar. 22 - InfoLunch - TCLS
On the occasion of Professor Leiv K. Sydnes's 70th birthday in July, colleagues and former students are organising a two-day symposium on May 15th-16th 2018, honouring his long-standing contribution to the Norwegian and international scientific community.
Invited speakers are Udo Brinker (State University of New York at Binghamton, USA), Janine Cossy (ESPCI Paris/CNRS/PSL Research University, France), Anita Maguire (University College Cork, Ireland), Trond Vidar Hansen (UiO), John Sigurd Mjøen Svendsen (UiT) and Magne O. Sydnes (UiS).
In addition to the invited lectures, there will be opportunities for poster presentations and short talks by the symposium participants.The symposium will take in the University Aula, 12:00-18:30 on May 15th and 09:00-13:00 on May 16th.
Deadline for abstract submission for a short talk: April 3rd
Deadline for poster abstract submission: April 20rd
Deadline for registration: April 16th.
Annette Meland Johannessen disputerer fredag 26. januar 2018 med avhandlingen: «Low Salinity Surfactant Flooding in Sandstone Cores».
Førsteamanuensis Kristine Spildo har vært hovedveileder og professor Arne Skauge har vært biveileder.
Last Friday, the official opening of the dedicated hangout for BSc-students in the chemistry program took place. The new term to learn is Basen («the base»), fittingly relating freshman chemistry to social aspects.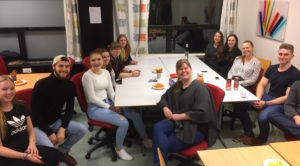 From the department point of view, strengthening the social fabric of the BSc-program will hopefully contribute to more students studying on-campus rather than off-campus, getting encouragement from peers, and succeeding in their studies. Instructors (PhDs, engineers, professors) are encouraged to stop by Basen when they see fit, to answer questions or simply say Hello! Basen is located at the ground floor of Realfagsbygget, next-door to the faculty administration.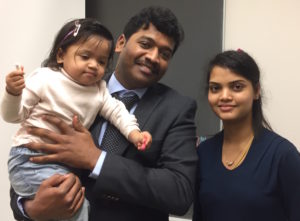 It is a pleasure to congratulate Vijay on successfully presenting and defending his thesis "Novel Synthetic Methodology and Total Syntheses of Highly Functionalized Carbazoles and Benzo[c]cinnolines» today! As stated in the preface of his thesis, pulling this feat off is made possible thanks to a great support team, two of his greatest supporters enclosing Vijay in the photo.
In connection with Vijay's disputation on Friday, the two opponents give a two-talk seminar on Thursday January 18, in Tripletten.
14:00 Prof. Hans-Joachim Knölker, Dept. Chemistry, TU Dresden: Transition Metals in Heterocyclic Synthesis.
15:15 Prof. Trond Vidar Hansen, Dept. Pharmaceutical Chemistry, School of Pharmacy, UiO: Stereoselective Synthesis, Biosynthesis, Biological Activities and Applications of Specialized Pro-Resolving Lipid Mediators: Novel Leads in Drug Discovery.
Your attendance is welcome!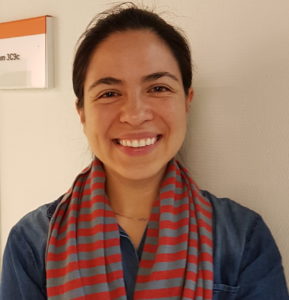 Dafne Lemus is hired in a 4-year research fellow position at the Department of Chemistry, connected to the Centre for the Study of the Sciences and the Humanities (SVT). She will be working on a PhD project that analyzes the role of deep uncertainty and scientific dissent on ongoing chemical risk controversies. Her focus will be on the study of a series of empiric cases related to the topic of the risk appraisal of endocrine disruptors. She has an academic background in the fields of Chemical Engineering, Biotechnology and Environmental Studies.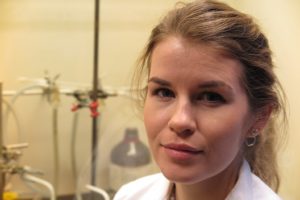 Januar 2, 2018 Eirin Alme was employed as research fellow / PhD student in organic synthesis / medical technology. Her background is a master degree in organic chemistry from the University of Bergen (2017). Her PhD project comprises design of synthetic pathways and development of synthetic methodology and technology for the preparation of compounds targeted as drugs or radiolabelled tracers for positron emission tomography (PET). Eirin will work in the Bjørsvik research group.
Statoil ønsker velkommen sommerstudenter som har fullført det andre året på bachelorgraden sin, men ennå ikke ferdigstilt mastergraden. De tilbyr seks til åtte ukers betalt arbeid, relevant arbeidserfaring, et faglig og sosialt nettverk, samt innsikt i industrien. Stillingene spenner helt fra den spisse enden til stab- og støttefunksjoner. Spørsmål rettes til Mari Vie Mæland (mvm@statoil.com). Søknadsfrist: 28. januar.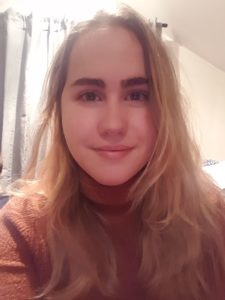 Cæcilie Benckendorff has joined the department as an ERASMUS+ traineeship student on exchange from the University of Aberdeen. She will be working toward a MChem degree until the end of April, and will work on the synthesis of riboswitch ligands together with Illimar, Zeeshan and Bengt Erik. She will be associated with the project Chartering chemical space of riboswitch ligands – toward future antibiotics which is a collaboration with Professor Ruth Brenk at the Department of Biomedicine at UiB.

All the books, papers, conference contributions (talks, posters) etc that you published during 2017 need to be registered in the Cristin database. Cristin is the database that is used to compute the publishing part of our funding for coming 2019. It is a very good idea to register an item in Cristin as soon as the bibliographic information (volume, page number etc) is official – this way it becomes searchable in Cristin and thus your web site as soon as possible. In any case, please take a second look and include everything that has not been registered yet.  At present, we have 50 entries in the Cristin database for 2017 and close-to 70 entries in the paper gallery — clearly we have a way to go.
NB! The deadline for registering your scientific production for 2017 is January 31!