The Pope meets Leiv!
Professor Leiv K. Sydnes was involved as an organizer of and lecturer at the IUPAC conference CHEMRAWN XXI Solid Urban Waste Management, which took place in Rome, Italy April 6-8. For further details, press here.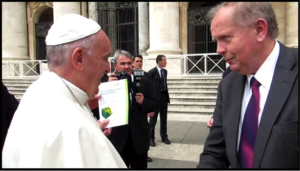 The day after the conference he was invited to meet the Pope after the Saturday service at Piazza San Pietro. Pope Francis is very concerned about environmental issues and just sharing of resources, and last year he hosted a high-level meeting with focus on economic inequalities and protection of the natural environment.